Fluoride Water Filters
Drink Pure Healthy Clean Water
To see specific Fluoride Water Filters, clink on the links for Kitchen Fluoride Filters and a bundled Whole House Fluoride Filter System.   Or click on the Shop tab above and select the category you want.
Since January 2006, Friends of Water has been keeping homes safe from Fluoride, Chloramine, and other contaminants with a premier line of quality fluoride water filters for healthy drinking water. We provide exceptional customer service in addition to help keep your family safe.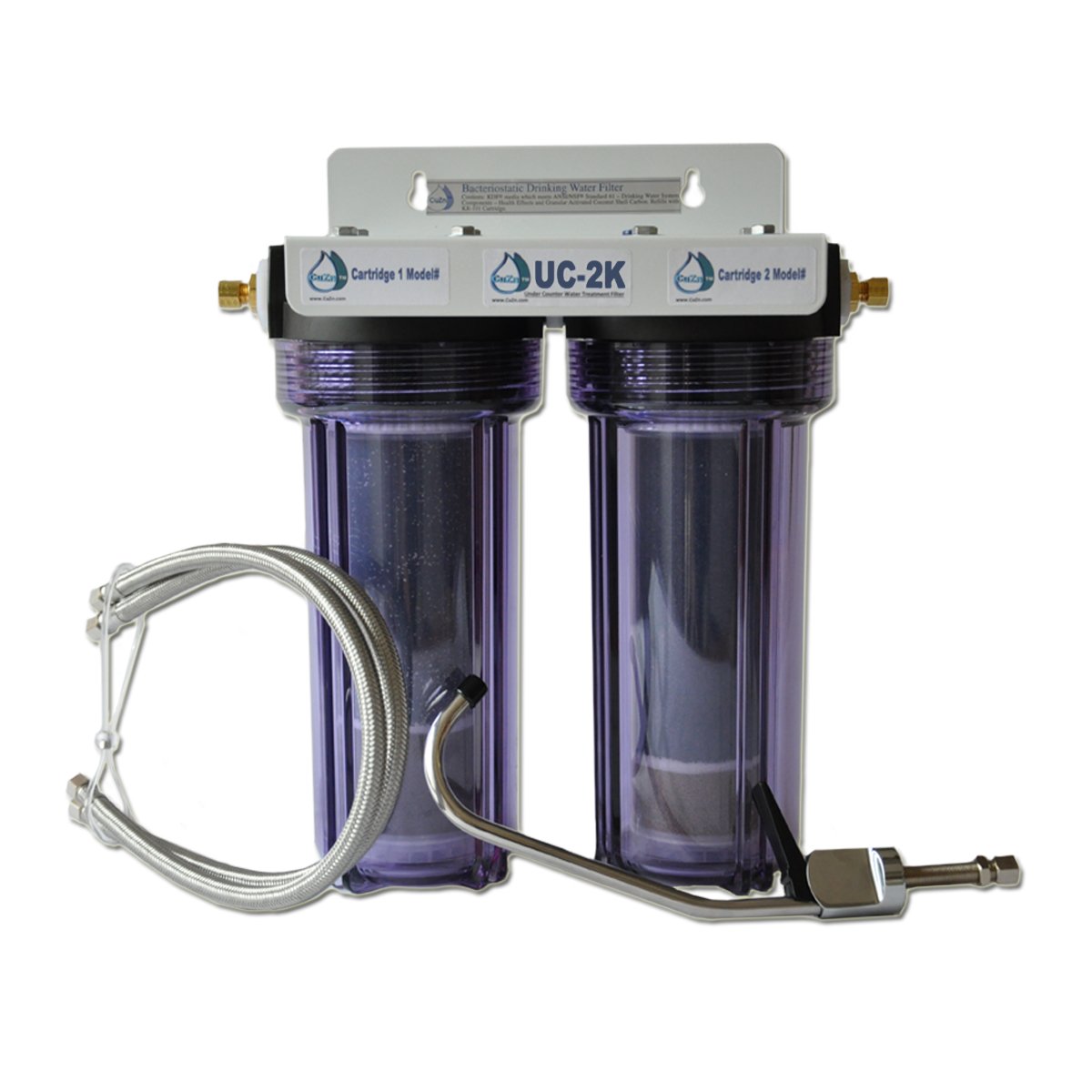 Kitchen 2-canister Fluoride Water Filter
The American Dental Association, in November 2006, announced that the ingestion of fluoride is too dangerous for babies. They notified their members of this, but we are not aware of any effort to notify the public. In the last year we're hearing about the connection between fluoride and eczema.  Now we've learned about fluoride and FPIES (and that our filters can help.)  You can read more about these and other risks of drinking fluoride, including that it is carcinogenic, at our page about Fluoride Dangers.
Choose the fluoride water filter that is right for you. Do you have chlorine or chloramines in your water?
Activated alumina or calcium carbon are used in our kitchen fluoride filters.  Individual customers who have tested these filters in their homes have reported 0 fluoride when new, and 0 fluoride after seven months of use.   Please note that an effective home fluoride tester costs around $440.  If you want to get your water tested for fluoride, we recommend you go to a professional lab.  HOWEVER YOU ALSO NEED TO KNOW THAT EVEN RETAIL LAB TESTS OFTEN SHOW FALSE POSITIVES FOR FLUORIDE FILTRATION.  THE MEDIA WE USE ARE TESTED, CERTIFIED AND PROVEN.  SEE Fluoride Risks and other pages under "Education/Water Filters" for actual impacts on health, as well as certification, test results and more.
Fluoride combines with a metallic compound in our water, and a metallic substance with the opposite attraction removes it.  Every metal has a charge, either positive or negative, and each can be either strong or weak.  The right combination happens with activated alumina, which is used in one of the canisters in our fluoride PLUS two-canister and three-canister fluoride water filters. Through the attraction of the metals, removal rates normally start about 96% and may drop over six months to roughly 85%. (rated at 2400 ppm).  The levels in your water will alter the amount of filtration.
Calcium-based carbon is also known as bone char. It is equally effective and equally safe. It's just a personal choice as to which media you prefer. We do not recommend one over the other. It too has been tested to show removal rates of 96%.  That is expected to trail down over usage, so you must change your filters as recommended.
We also have a whole house fluoride filtering water filter system.  For this unit, calcium-based carbon in used, combined with a wide-spectrum filtration whole house tank.  The use of calcium based carbon, combined with FOAM ADVANTAGE kdf, has allowed us to offer whole house fluoride filtration at extremely affordable rates.  Click the link to see details on whole house water filter systems.
Fluoride Water Filters for the Kitchen
You can remove fluoride with the 2 or 3-canister fluoride water filters found in our online store.
Under-Sink & Countertop Filters
We carry both countertop and under-sink water filters to clean your drinking water.  The filters are the same, just how they connect is different. Each of the under-sink water filters come with its own faucet, which can go through the opening in your kitchen sink.  Under-sink units usually take a plumber a half-hour to install.  You don't need a plumber with countertop filteres.  The countertop models all have a diverter that screws onto the end of your existing kitchen faucet.  To send water through the filter, you pull the tab on the side of the diverter.
•    All under counter 2- and 3-canister water filters come with their own faucet that goes through the extra opening in your sink.  You can upgrade at little cost to get a better faucet (which we do recommend.)
•    Countertop 2 and 3-canister water filters all have a diverter that screws onto the end of your faucet.  You pull a tab to send water through the filter and back to your faucet.
Every one of these drinking water filters works on more than 600 contaminants including chlorine, organic-based contaminants like hormones, chemical-based drugs, arsenic, lead, heavy metals, chlorination by-products like trihalomethanes, and pesticides in much the same way that Mother Earth uses the minerals in the rocks and ground to clean water as it runs through to the aquifers.  Those listed on this page also remove fluoride.
If you aren't satisfied, you can return any product for a full refund within 90 days.
You can contact us by email at sales@friendsofwater.com or call toll-free 866-482-6803.
Testimonials
"I am a practicing Anesthesiologist living in a small town in Pennsylvania who has spent a small fortune on bottled water.  Our city water is chlorinated and fluorinated, the taste was not very good and the quantity of water I drink as well as my husband and family the cost of bottled water really adds up.  I researched the web in search of a water purification system.  I really didn't want to bother with interrupting my plumbing, I just wanted something that was easy to install and remain on my countertop.  I came upon the website friendsofwater.com and found just what I was looking for, a countertop 2-canister, multi-stage system that attached to my faucet and could stay on my countertop.  I had the best of both worlds. I also could get this in chrome to match my kitchen.
I was intrigued so I called the toll free number (also a good asset for a company to have) and spoke with Timothy.  Timothy was both knowledgeable and patient with all my questions.  I was satisfied that this system satisfied my needs and also purchased systems for my parents (they are senior citizens who also should not be drinking water with fluoride and chlorine in it and can't afford to keep buying bottled water).
Well, the systems arrived in less than a week and they were just beautiful to look at. But how did they work?  We installed the systems in our home and that  of my parents, talk about easy installation without a plumber.  We ran the water through the system and in less than 10 minutes had the freshest tasting water.  We all agreed this was even better than our bottled water and now coming from our tap and with good pressure.  We also liked that after turning off the system the faucet was fully usable for washing dishes, etc.
I had a few questions and called Timothy and he researched a glitch and it was resolved within 24 hours, incredible.  I had a small problem with one of the three systems we bought and he sent out a replacement diverter for me, no problem.
I have never been treated so well by a business, especially an Internet business.  I was speechless and very grateful I had chosen this company.  I will tell this story to all my friends, colleagues and patients in the event they would also like to have such a system. I hope this helps anyone who is searching for something like this for their family.  I would recommend this company to anyone."
Sincerely,
Janine Pusti M.D.